Over the course of the Augmented Urbans project, Riga Planning region has been working on a study on the notion of resilience in spatial planning called "Resilience by the river". The study is looking at resilience referenced towards a common value in our region — the river Daugava.
Augmented reality and resilience have almost never been familiar as keywords in the spatial planning of Latvia. Preparing our team for participation in the Augmented Urbans project, we found the most appropriate symbolic quote expressing our approach to the project:
"When the river is high, the water whooshes over the rocks, not taken off course, and where the rocks are respected but not dominant. When the water is low, it's the opposite. Rocks are felt much more, out of perspective, and the river can be pushed off course. There is a tremendous effort in getting a good flow, of moving towards where the river needs to go. Knowing your own resilience at any one moment helps define the capacity you have for what you have to do. It defines your performance. It defines your ability to drive towards a set of goals, or whether you can be taken off course."
Local municipalities of Latvia are currently on the threshold of impressive administrative reform. In trying to create a common platform for linking values and interests within the Riga region, we identified the Daugava river as a core spatial reference entity. An open GIS concept was selected as an up-to-date environment and a reliable tool for spatial analysis over municipality borders both for focusing on multiple scales, big and small, as well as for modelling of scenarios. The project area covers a watershed of the Daugava River in excess of 30 kilometres, from Riga to Ogre. Without a common data and information platform, it would be impossible to deal with such large-scale riverine issues hand in hand with important small-scale local interventions on small creeks.
Daugava River has been the backbone of Riga ever since the first tradespeople settled here. Providing water, fishing anda transit route between East and West, and more recently even power, Riga would not be such a strategic and significant city in the history of Europe without the Daugava River. Daugava is a conduit for community, migration, inspiration and much more.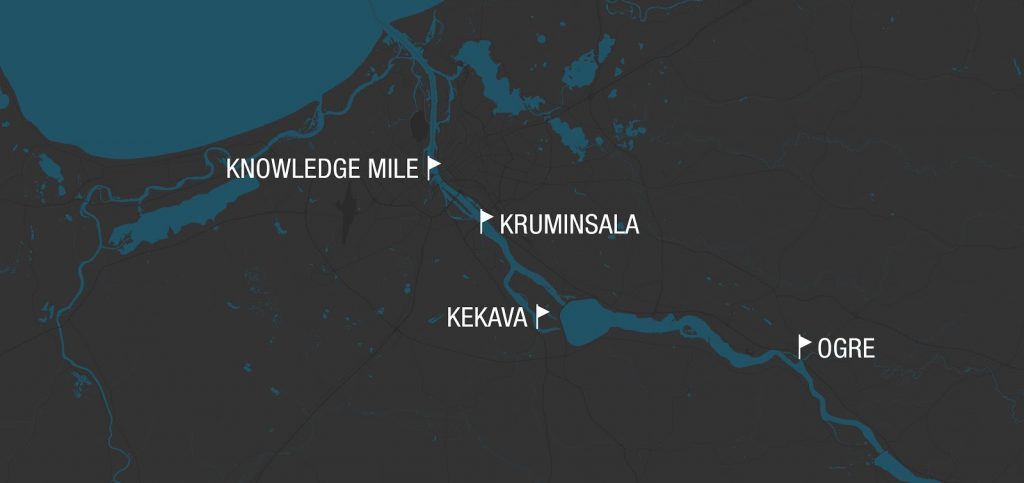 We aspire to bring attention to the wider spectrum of resilience and agility by creating visible impact on-site and by reaching various target audiences. That in turn, we hope will lead to changes in multiple levels: from new grassroots actions to local building code improvements, and joint proposals, to regional and national strategic planning changes. Riga Planning region aims at encouraging participatory planning, self-led learning-by-doing activities by the locals, as well as increasing a sense of ownership amongst stakeholders and increasing acknowledgement of multitude perspectives.
On a bigger scale, the goal is to examine opportunities for increased resilience across the region. We want to set the stage for diversifying waterfront infrastructure, advance the use of water transportation in order to connect the innovation and knowledge potential currently concentrated in urban Riga, with places on the outskirts of the city – thus promoting equal and fair development and resilience across the region. We aim at a resilient, inclusive and fair future for the whole Riga metropolitan region, not just the city center. To move forwards with this concept, we developed a chain of activities on the banks of the river to connect knowledge-based resources with places, people and businesses. We want to spark new collaborations, share resources and bring new value to the river. We want to encourage people to work towards resilience themselves, to take ownership of public places and ensure that everyone and every place can thrive.
We selected three focus areas that not only lie on the banks of the river, but also form a unique network of waters (estuaries of smaller streams and bayous), and a unique waterfront landscape with biologically diverse areas:
Riga city
A starting point for resilience study and expeditions "Knowledge mile" is Āgenskalns bay and Zunda canal and its surrounding university campuses. Universities are among the key drivers of not only academic but also economic and social innovations in Riga. New waterways can help us bridge not only the city centre and the surroundings, but also connect universities and their students, eager to solve real-life issues that municipalities and businesses are finding challenging. In collaboration with Riga Technical University, makers groups stakeholders built floats that were used as a temporary docking point for kayaks. The future goal in Riga city is to build a network of small boat "ports" across Daugava to extend innovation from campuses to city borderland, promote access to biodiverse sites outside the city centre and encourage local development along the river.
For the Augmented Urbans resiliency study, we chose a study area on Krūmiņsala island, located between Riga and Ķekava municipality. The island of Krūmiņsala is rich with a diversity of biotopes, wilderness, and virgin nature as well as open space almost untouched by human activity. Our local stakeholders concluded it is almost like a treasure island for eco-tourism, educational expeditions, and wilderness recreation not that far from the city centre.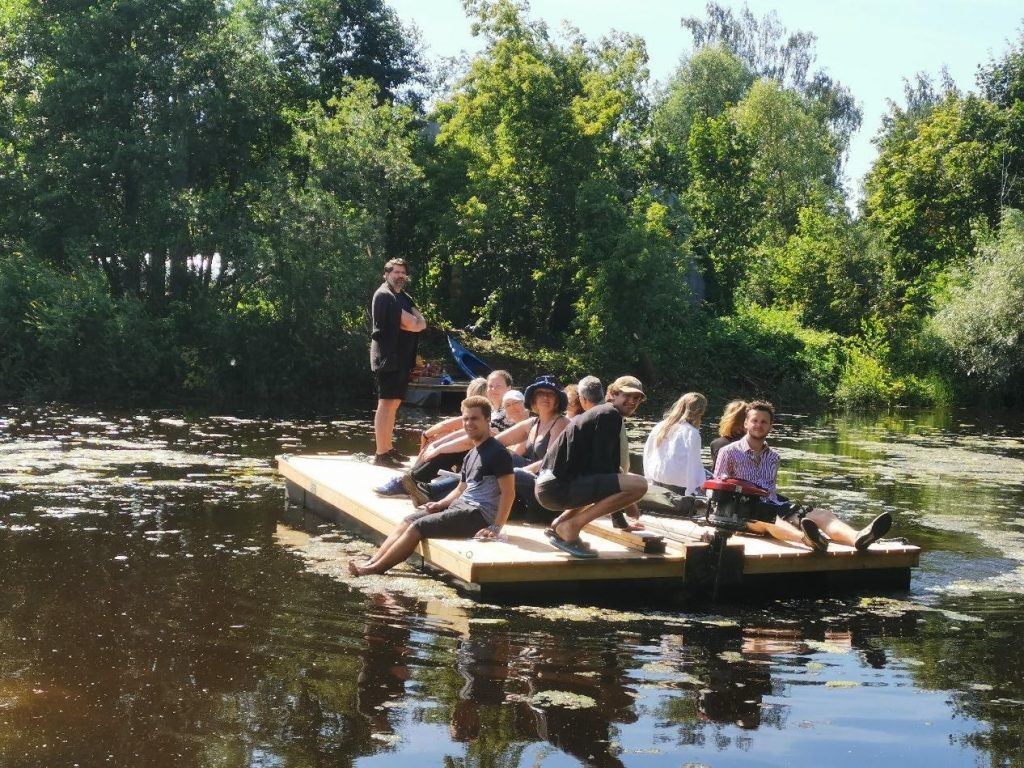 Through this site, we encouraged cross-border collaboration between municipalities and public-private partnerships to increase waterfront access. Public bodies must recognise Āgenskalns bay and Zunda canal (as well as Marupite creek) as a continuation of Riga's historical centre incorporating the university knowledge and innovation potential and expanding collaborations and ties from the universities outward in the Riga region.
Ķekava municipality
Our aim was to explore opportunities for regaining access to the riverfront and Dole island at the site called Dry Daugava. Dole island is a specially protected nature park, established in 1986 to protect the landscape, cultural and historical values of the island as well as rare and protected species of plants and animals in the wake of the construction of Riga hydroelectric power plant. In Ķekava, local stakeholders are actively pursuing resilience topics. During our activities, we met with the representatives of SIA "Murdiņi" and the association "For waterfront development". They have been collaborating with the local government to increase connectivity and influence the cities' long-term strategic planning objectives regarding waterfront accessibility improvements and Dry Daugava development vision for both sports and recreation.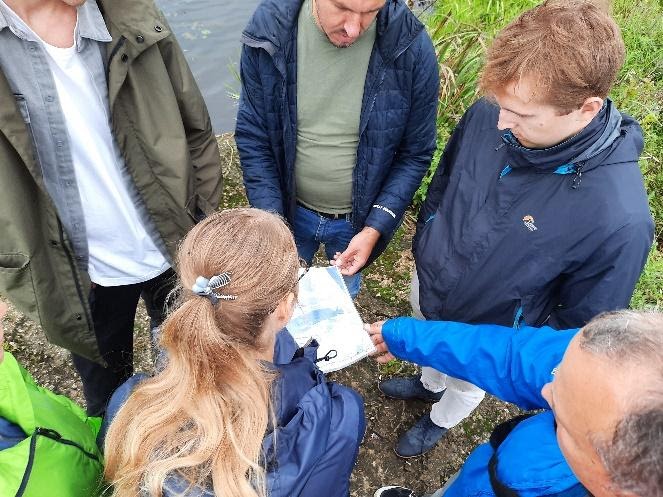 Learning-by-doing activities in Ķekava proved the importance of local knowledge. Community engagement is a productive way for identifying existing sacred areas, pinpointing heavily used areas needing improvements or marking already existing self-led mitigation initiatives across the project area. All this leads to a more positive impact and community acceptance around a future project. We encourage our partners to facilitate more research by design processes and to become a real customer and a dream workplace for planners and architects connecting young professionals with the local communities.
Ogre municipality
In Ogre, the relationship between the river and the people has already been featured in various projects and architectural contests. Ogre showcases how to successfully implement innovative flood defense measures and thus reduce the impacts of human activities on the river. New technologies are being used to monitor water level changes and to inform locals about a potential threat. This case study serves as a good example of being resilient and able to adapt not only to changing climate but also to the outcomes of human activity (building a hydroelectric station in this case). What's more, 3D and VR technologies for the design and participation process are being showcased by Riga Technical University students designing ideas for "The Citys' gateway" project next to the Daugava River.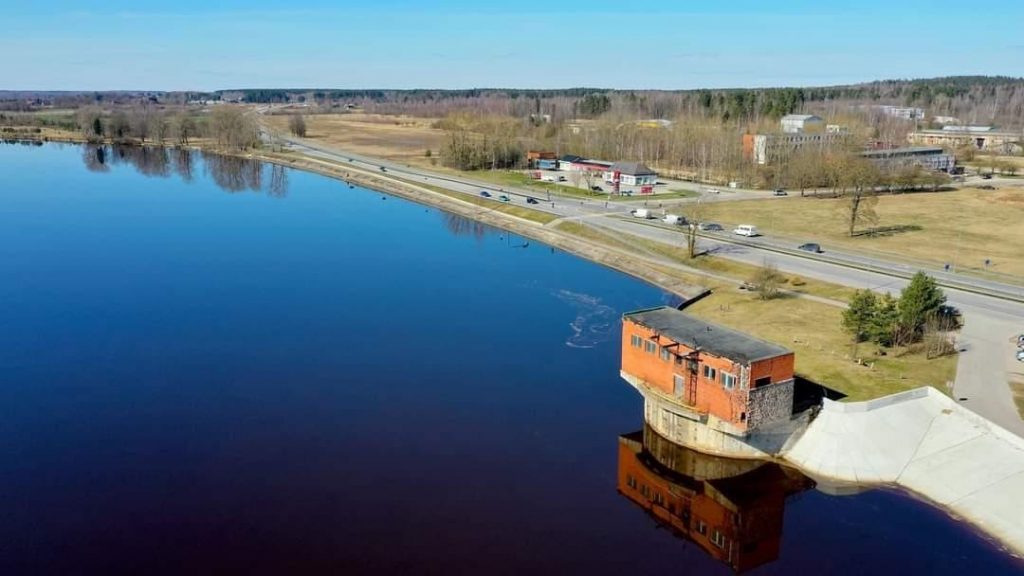 We encourage Ogre municipality to consider the City Gate project to serve as a resilience center and flagship for water-dependent placemaking given its peculiar location and accessibility by car, bike, train or possibly even water transport in the future. Even so, Ogre already has a strong potential to serve as a flagship for strengthening Water Sensitive Urban planning – a city more aware of water, energy, nature and living environment, a city in which developments take place in an interconnected, resilient and climate-proof way, and where water can be a source for recreation, joy and learning.
Our project activities do not stand alone, rather they fit in a consistent network of actions taken to explore resilience by the river and ensure their continuity. And that is why resilience is often defined as "maintaining continuity through all shocks and stresses, while positively adapting and transforming towards sustainability".
Inspiration to work in these sites came from previous projects relating to these areas. For example, Ogre municipality has carried out a project called NOAH aiming to improve the operation of urban stormwater runoff and drainage systems in order to reduce pollution caused by heavy rains and flooding. While at the same time in Riga, on the banks of the river, some of the largest national universities — University of Latvia, Riga Technical University, Riga Stradins University, RISEBA University, all within a walking distance from one another — are developing their campuses forming the so called "Knowledge Mile".
At Augmented Urbans, we are adding on to what has been done before us while creating new tools and new experiences for a resilient future. A resilience matrix developed in this project, if applied locally, has proved to be a valuable evaluation tool complementing XR and VR tools and giving them more human touch, as well as letting the viewer express their real-time experience. However, it is important to enable the matrix through the co-creation process whilst engaging with locals.
But what this uncertain year of 2020 has taught us is that we want to take a step even further when promoting resilience. Our highest ambition is to achieve resilience to ANY external force. Not only climate change, human activity, health and safety but also political and economic resilience.
Riga Planning region is facing an uncertain future regarding the new territorial reform taking place in Latvia. Regardless of that, within this project, we have learned to promote resilience in times of uncertainty. As a regional institution, it is our job and our competence to bring down borders between our municipalities and work together as a single unit.
The new Riga agglomeration plan defines the need for integrated development solutions for the Riga metropolitan area. One of the high priority development areas defined is the Daugava River basin area from Riga to Ogre municipality with its unique natural environment, dense population (including population growth and intensification of construction), and economic activity. Our incentives throughout the Augmented Urbans project are in fulfillment of the planned objectives and investments such as planning coordinated development of environmental infrastructure, related anti-flood measures, supporting and strengthening of local communities based on their own initiatives, connected mobility, developing green-blue structures, and use of natural resources for recreation, etc. Thus, our activities have ensured invaluable input for the Riga agglomeration plan.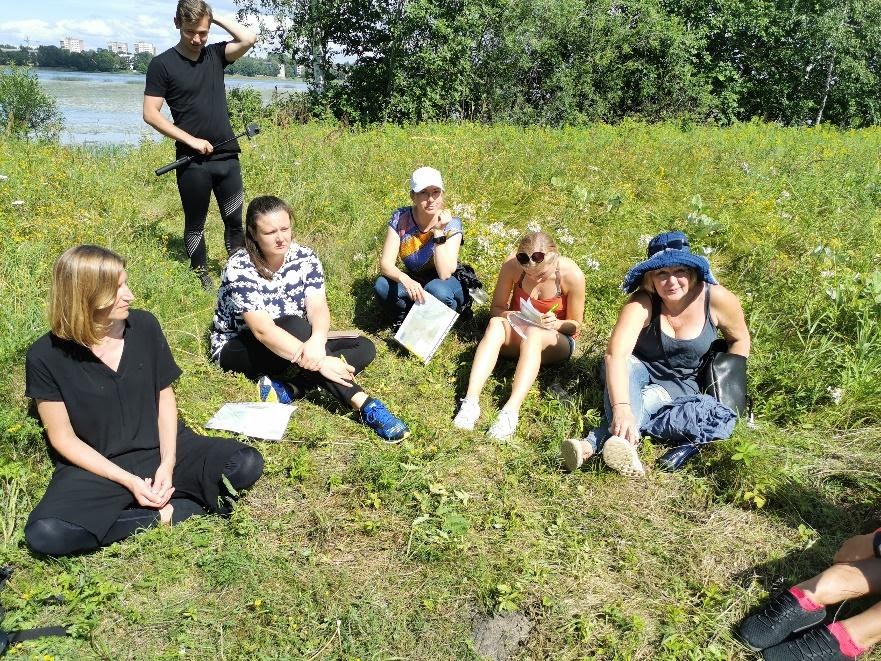 While working with our multidisciplinary team, we have learned that indeed it takes a village to raise a child. Or in our case, it takes a village to reclaim the waterfronts, to imagine a more resilient future, and to mobilise seemingly small but powerful interventions. As we gathered a group of enthusiastic people willing to go the extra mile, get their hands dirty, willing to step into the water, and willing to take on more responsibility, we learned that the river stays in place regardless of how we, the people, draw borders around it.
In the end, the question is more about how we want to maintain continuity of our own actions. Our ancestors had a deep relationship with the Daugava River because it set the stage for life, work, and play. Today, the river-people relationship is not as strong, however, Augment Urbans activities have helped us strengthen the relationship, explore new tools allowing us to experience the river, and increase responsibility among locals. This project has helped us firstly to be more aware of our own actions and impacts on the environment and secondly to think about what we want the future to look like, and thirdly to see that we already have the tools and the allies to make it happen today.