Augmented Urbans has fostered a considerable amount of cooperation between cities and universities. Design Studios, project-inspired challenges embedded within university courses, have facilitated collaboration between urban planners and students. In some of these, planners have acted as course tutors; in others, they have defined the assignments for students. In addition, some independent courses have explored the project themes. The collaboration has continued throughout the three years of the project. The students have also participated in the project activities as interns with various project-related tasks, for example in XR development, media design or event production.
Design Studios have enabled young students to become involved in city planning and urban development. The topics are highly relevant for future professionals. For example, user participation and participatory design are a vital part of design education, and, as such, compelling case study subjects that fluently fit in the curricula.
The student involvement has provided Augmented Urbans with fresh ideas and perspectives. Student concepts are often not burdened by the conventions of designing certain things or the day-to-day procedures of the city administration. To inspire out-of-the-box solutions, the students were mainly advised to design proposals without any budget restrictions. In general, universities have well-equipped workshops which enable the production of well-made models and prototypes useful for both presenting the designs and conducting practical tests on concepts with real users. In certain cases, the student projects are also used as teasers or as scenarios to business-owners to show what kind of solutions can be introduced.
At its best, student work in projects such as Augmented Urbans can be eye-opening. Students tend to introduce solutions based on their own experience and desires, but also their independent studies and surveys. In terms of timing, the student projects are most effective when arranged at the beginning of the process to chart different options before any decisions or even preliminary plans have been made.
The following section gives an overview of the course and thesis work conducted in relation to the Augmented Urbans in Cēsis, Gävle, Helsinki and Tallinn.
RISEBA University of Applied Sciences
Faculty of Architecture and Design
Programme: Architecture
Course: Spatial Research and Planning, for Master students "Modeling of the Spatial Prototypes for Ecosystem Services in Cēsis" (Autumn 2019), for Bachelor students "Green Territories and Public Green Space in the City of Cēsis" (Spring 2020)
Course supervisor: Ilze Paklone
Tutors: Rūdolfs Dainis Šmits, Dina Suhanova
Guest tutors, experts and invited jury: Viesturs Celmiņš, Jānis Dripe, Zane Vēja, Ints Menģelis
Overview
The aim of the course was to study the spatial, programmatic, social and business dynamics of urban areas as a means of urban renewal and sustainable economic growth. To achieve this, the courses covered a wide range of case studies, theoretical research on urban development dynamics, as well as model, compare and evaluate, strategic and spatial development scenarios. By studying global, regional and local case studies and theoretical studies, spatial scenarios were intended as reflexive and alternative visions for formal urban planning policy.
Co-designing territories is a recent spatial phenomenon and approach where a wide network of spatial, social, research, innovation, educational as well as business institutions cooperate and co-create facilities and share culture to foster urban regenerative processes. Co-designing calls for a critical investigation on how existing urban infrastructure, city planning policies, local and global communities interrelate. The imaginative spatial scenarios are intended to be reflexive and alternative. Development of the spatial scenarios was the main target of the course.
The study course was based on the strategic intent of Cēsis city municipality to re-evaluate the potential of the city for becoming a resort, to develop basic principles for urban regenerative processes, successful involvement of wider public into urban planning processes, thus improving quality of urban environment and sustainability, as well as competitiveness. The research, city development concept, analysis of the current situation and development strategy and its presentation were carried out by involving relevant stakeholders.
Outcomes
Altogether eight projects were developed; they will be partly included in Thematic plan for Green territories around Gauja River in Cēsis, Latvia developed within the Augmented Urbans project.  The projects included graduate, undergraduate and one thesis work. The next section will give an overview of these projects.
Graduate work outcomes
Cēsis Cup: Developing Tea Ritual
Enjoyment of local foods and beverages is one of the eco‑service rituals to target. In this case, ritualised consumption of tea is used as a sample to demonstrate how the whole cycle from production to consumption can be set out and how this whole cycle can become an experience for locals and visitors. The locations of the production, tea packaging and tea serving design prototypes were carefully chosen to promote joint urban and riverfront development. The project emphasises not only ritualised consumption of tea, but also sensible observation of nature – people are invited to get closer to the river, as well as are invited to be in the wilderness.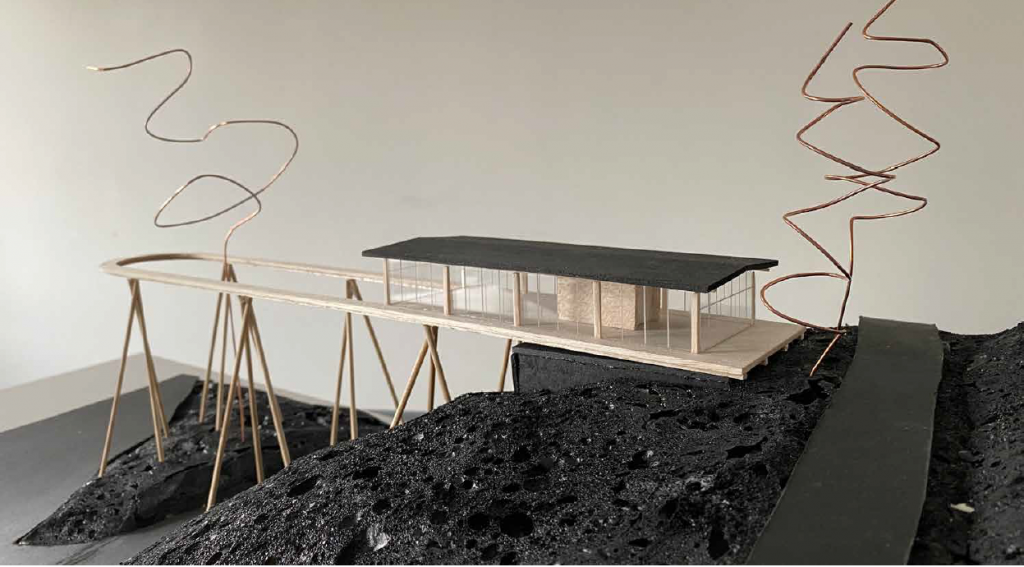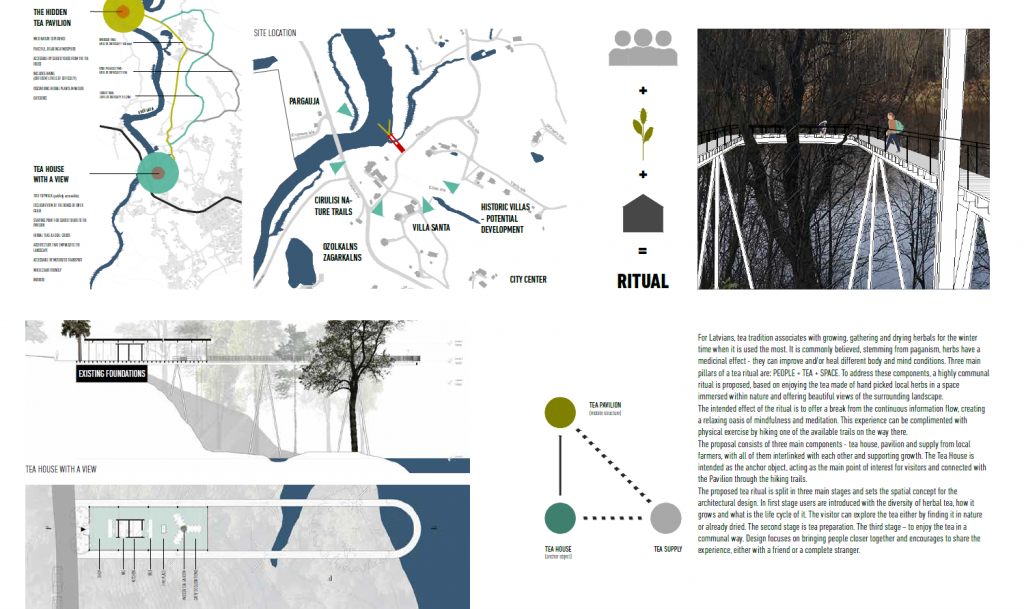 Edge Project
The project interlaces socially active spaces that complement river activities – boat stops, cafeteria, observation tower and finally, sauna – and more secluded, private spaces, shelter-type units for an overnight stay of individual or family, ranging in size. Taking into account the change of water level during autumn and spring, the main landscape element is a self‑elevating platform that reacts to the changes in water level. The project challenges the changing levels of the water, as well as accustomed built densities at the edge of the river, while preserving the existing landscape.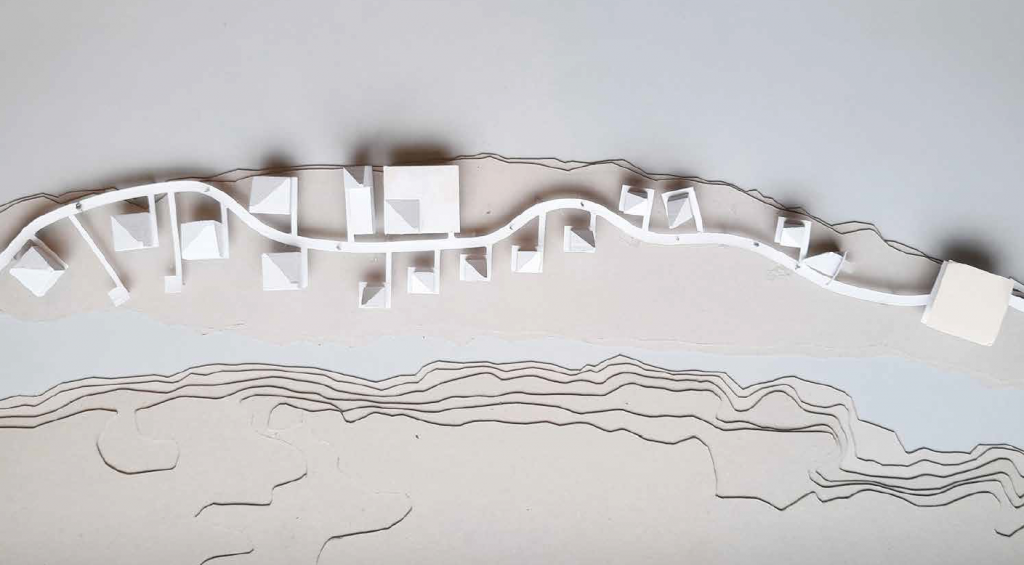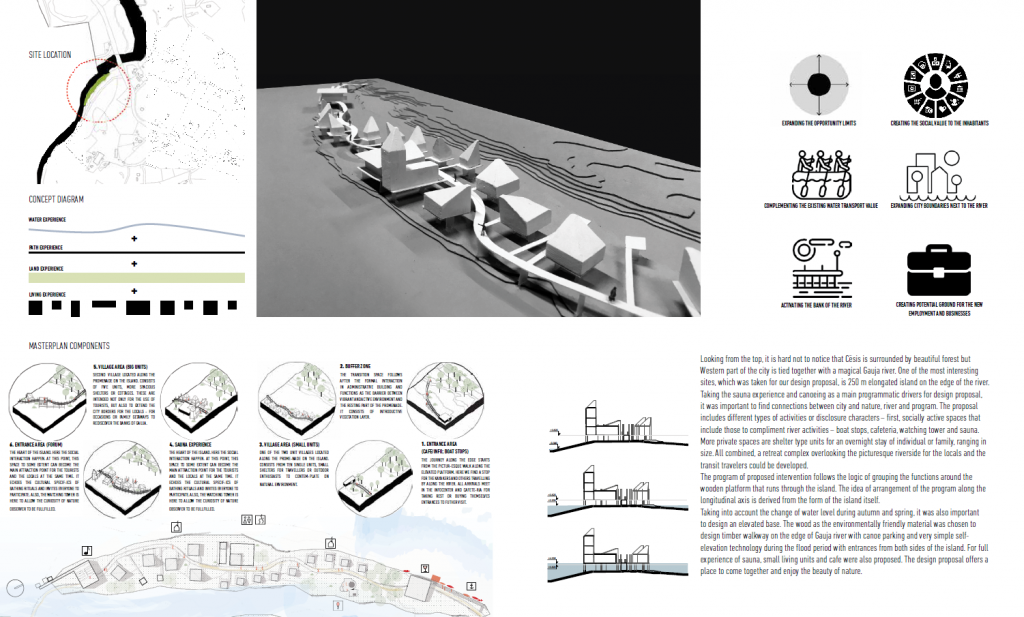 Recreation at Gauja
The purpose of the project is to introduce sophisticated technologies and temporary living at the edge of the river. The project explicates technical solutions of dealing with seasonal water level changes, while intervening with the natural landscape as little as possible. The proposed technical solutions allow flexible design solutions and spatial typologies.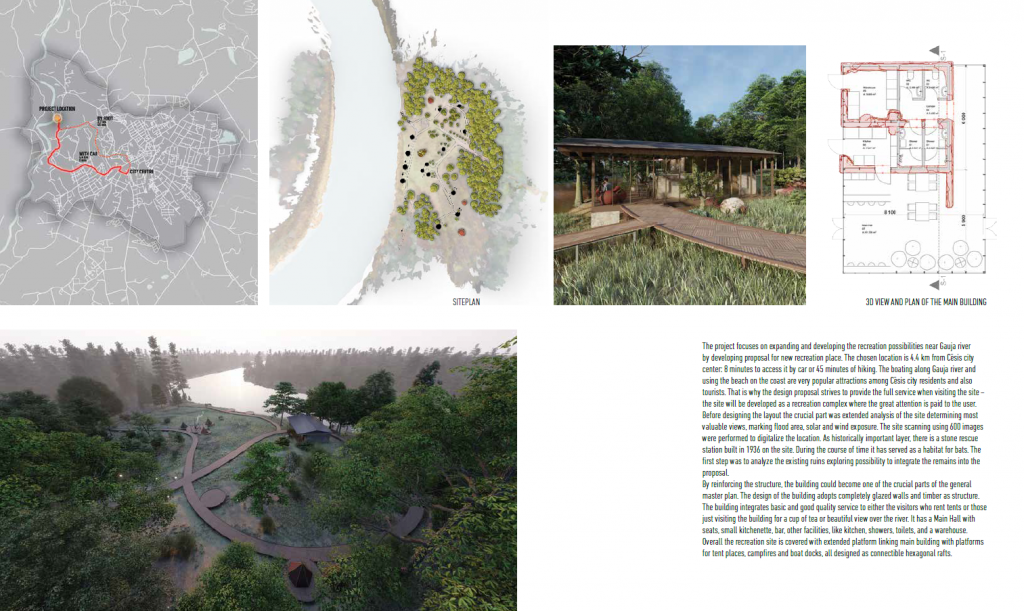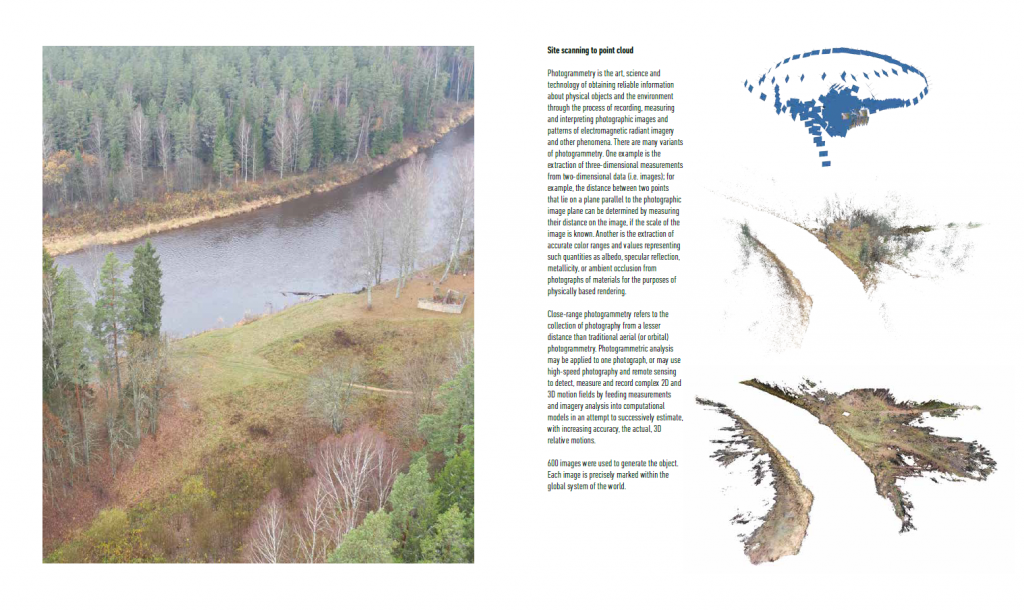 Undergraduate work overview
Lifestyle / locals and tourists / accommodation: Cēsis edition
The project envisions specific landscape typology based on the biotopes, other objects of interest and their seasonal performance of the protected nature and urban areas and three small‑scale accommodation prototypes in three selected landscape types.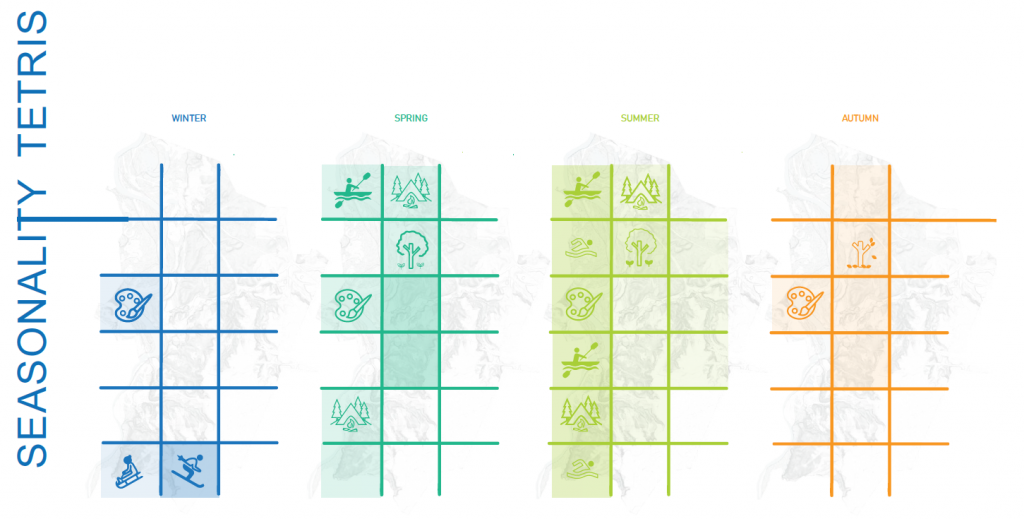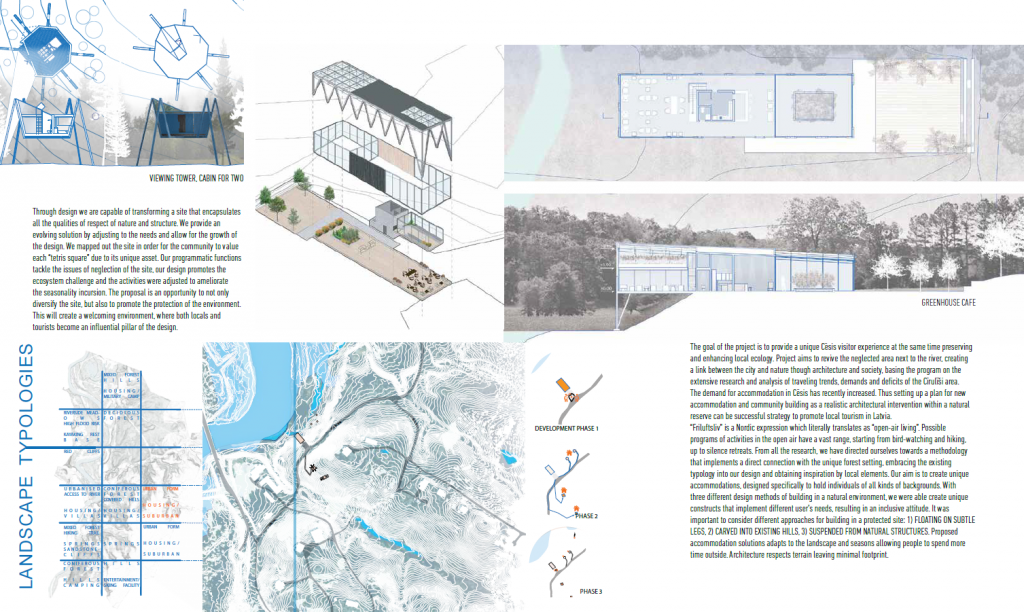 Eco-Travel Destination: Cēsis
The purpose of the project was to set out a profile of eco services that are based on research of global trends of travelling, as well as on research of travelling initiatives in Latvia.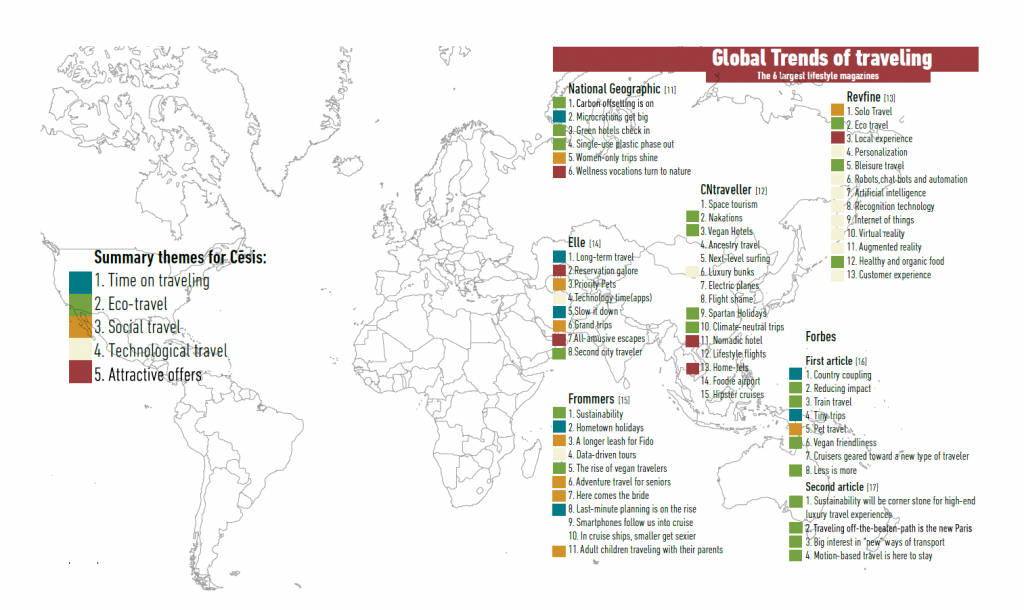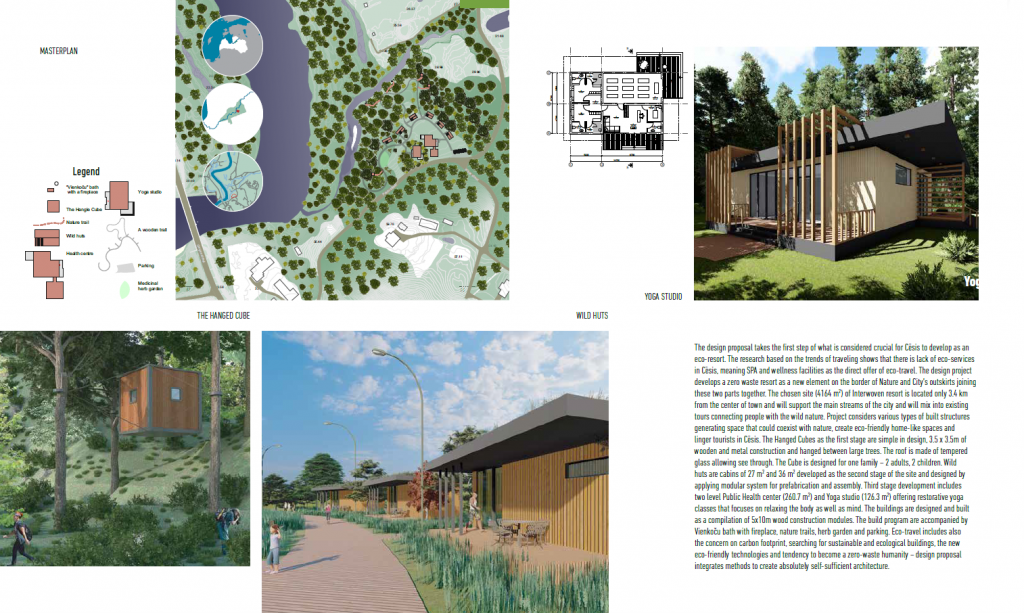 Enabling and celebrating nature and technology convergence through off-grid solutions
The project envisions three types of technological approaches to interaction between environment and buildings, and sets out five distinct modular accommodation and travel services prototypes in five locations in Gauja National Park.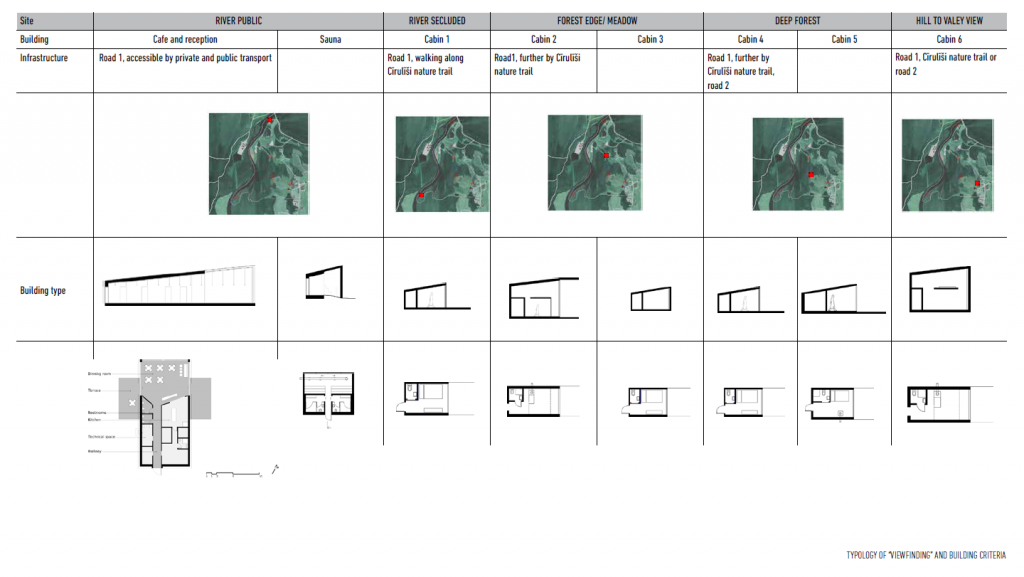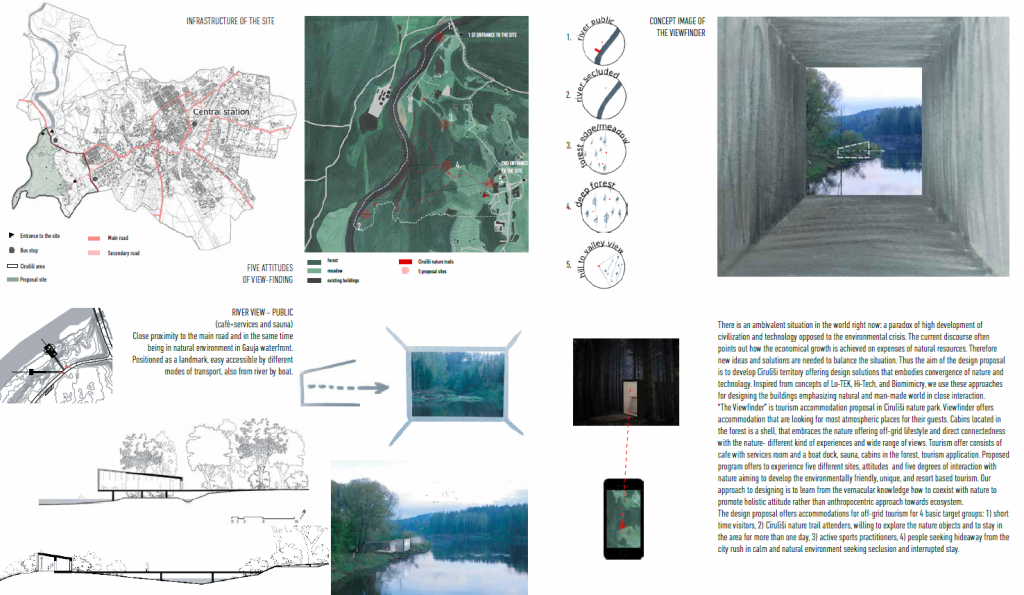 Coexistence of Green, Blue and Urban in Cēsis
The project proposes a network of small-scale pavilions within the Gauja National Park area that interlace recreation in nature, focuses attention on specific landscape elements and biotopes and puts forward the idea of joining academic research and recreation. The project also proposes to utilise the existing buildings of the former brick factory as one of the locations for setting out the network of the pavilions.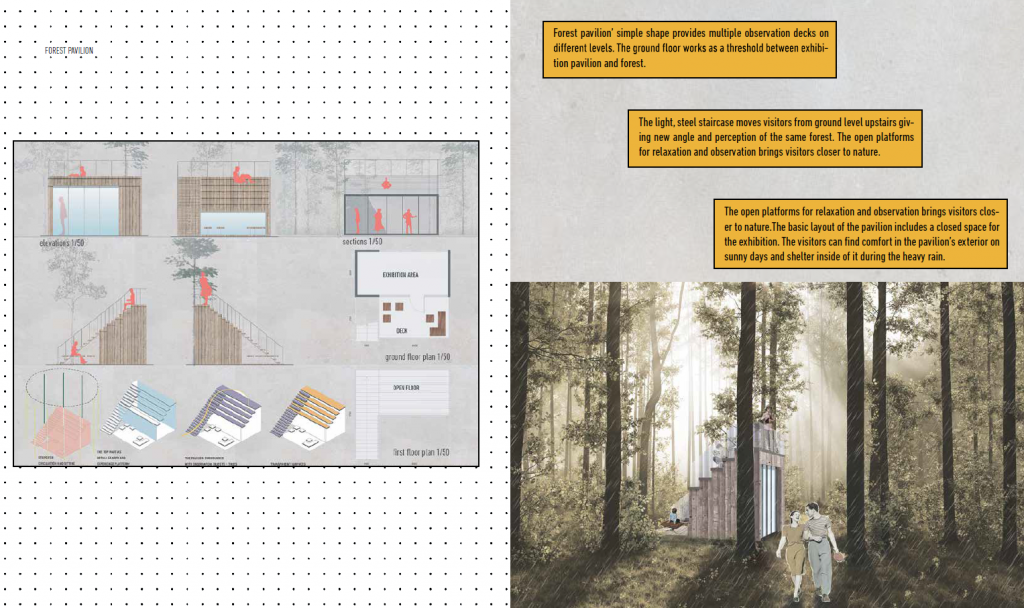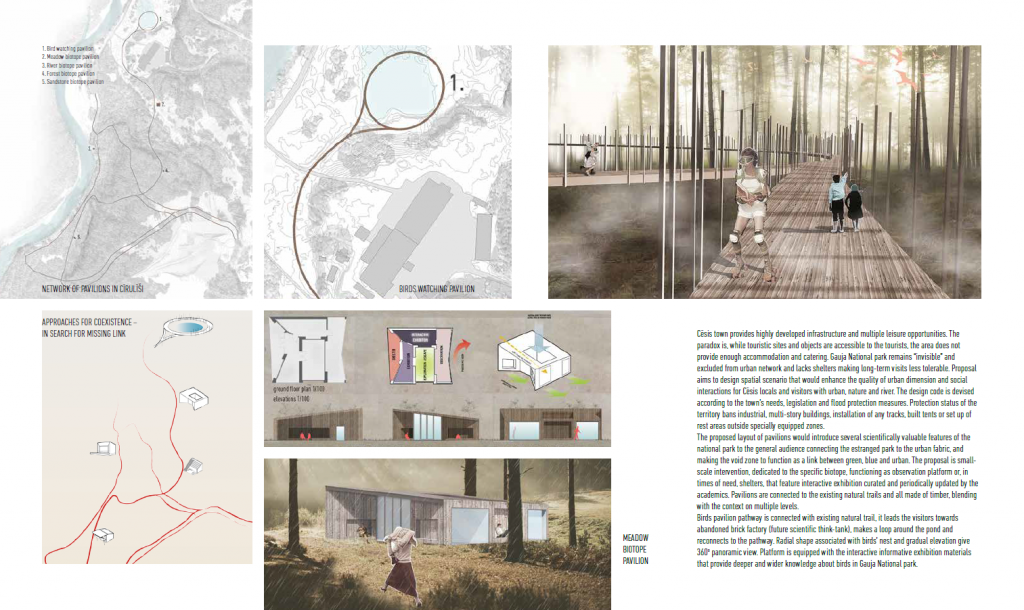 Revitalisation of Gaujaslīči nature trails
The purpose of the project is to detect existing nature trails, both formal and informal, the needs of travel infrastructure to set out the connected and well-serviced network of paths in Gauja National Park area in the city.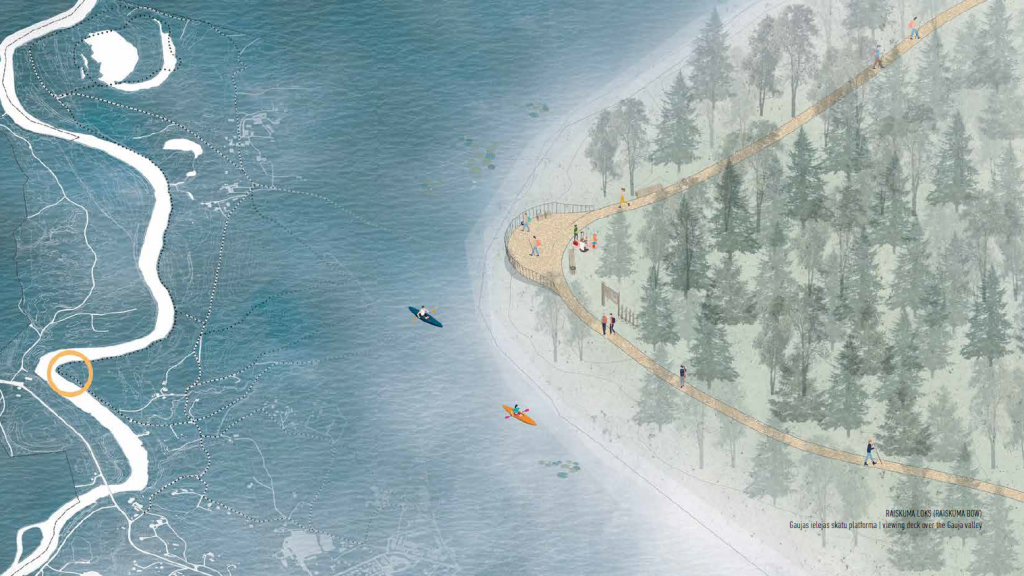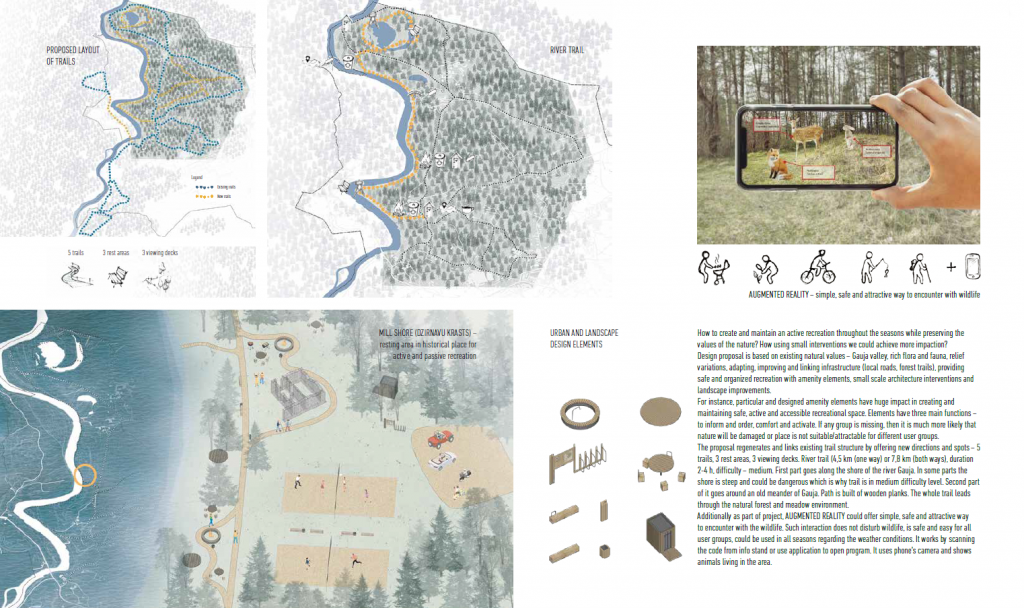 Thesis outcome 
Master thesis "Strategic planning: Resort development in Cēsis" by Pēteris Cars
The Master's thesis explores strategic planning to analyse the intentions of Cēsis municipality to develop the city as a resort, as well as two case studies of Druskeninki wellness park in Lithuania and Juvet landscape hotel in Norway to set out successfully applied methods that have been used to develop the resorts. Strategic planning methods by Patsy Healey provide the theoretical background  for the research. The empirical part of the research examines the historical background of Cēsis resort development, and Cēsis development planning documents where future intentions for Cēsis development are presented, as well as successfully applied methods in similar places. For the first time, Strategic planning of Cēsis is examined through the perspective of relational planning, including an analysis of successfully developed nature resorts and methods used that could be adapted and used for resort development in Cēsis. The conclusion is that Strategic planning is focusing attention in a relational way. The development trajectories are as follows:
urban governance
concerns and demands of citizens and organised stakeholders
economic policy
spatial strategy
government interests.
There is a gap between the binding plans and conceptual development plans. Relational planning observation of current planning structure consists of the existing knowledge about Cēsis terms of strategic planning and  provides the stakeholders, municipality of Cēsis and locals with a perspective on principles how it is possible to use relational planning methods as a tool for strategic development.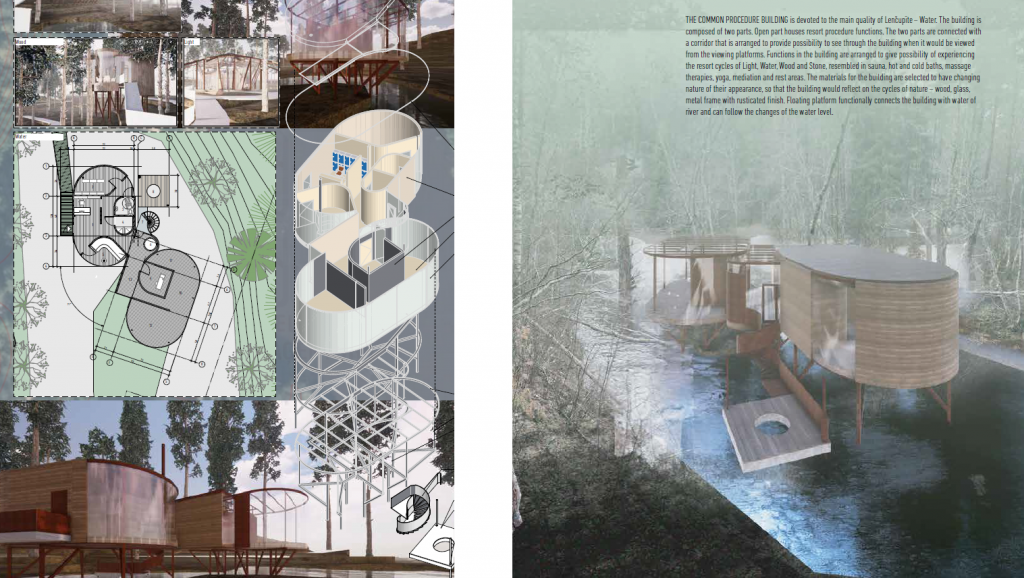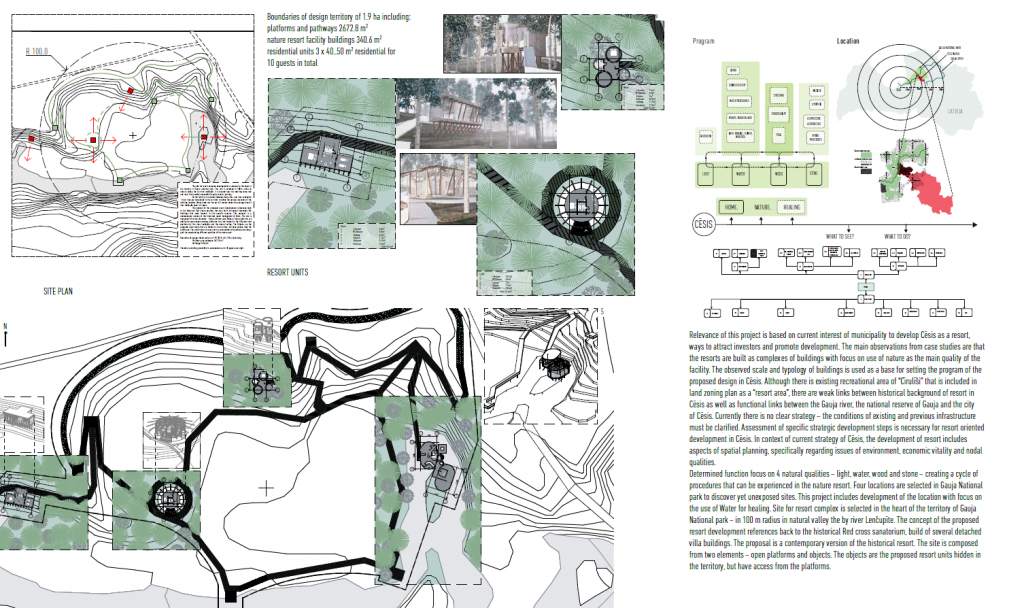 University of Gävle
Programme: Industrial design program
Course: Design for a Sustainable Society (Autumn 2018, Autumn 2020)
Number of students: 20
Tutor: Gunnar Anderung
Course administration: Gabrielle Streit
Autumn 2018 Overview
The course included lectures and project work with a design challenge. After the introduction to the Augmented Urbans, the students worked with the projects' residential area in Hemsta as the focus area for the design work. They also tested VR equipment in the project.
The task set for students was to create attractive, sustainable solutions that included housing and pollinating insects which:
promotes mental, physical and social health
creates sustainable and resilient outdoor environments with positive local and global environmental impact that utilises ecosystem services
creates safe places that people like and care about.
The design challenges included making a plan and implementing a design process with relevant tools and methods. This included finding a focus area and making well-balanced boundaries, identifying needs and finding necessary information for solving problems. The work was planned based on the focus area that had been chosen and how it best was implemented. The students reported their work plan in the form of a Gantt chart together with a problem formulation. The work was performed individually or in groups of a maximum of three.
Autumn 2018 Outcomes
Below are the student design solutions that include housing and pollinating insects that can be used to improve the outdoor environment in the Augmented Urbans project case study areas and at other places.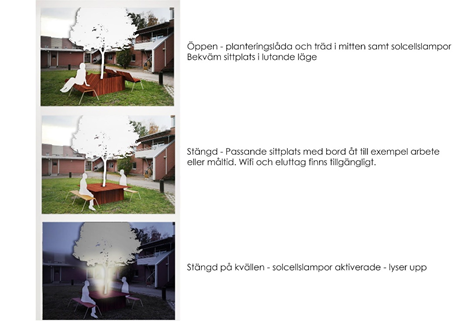 Autumn 2019 Overview
During the course, the students addressed questions regarding how to utilise and manage ecosystem services in the development of urban environments with people's commitment and participation?
Some points for the students to keep in mind to formulate problems and find a focus area were:
What ecosystem services are there that are relevant to work with
Where should it be. Also leads to:
Target group, Users and other stakeholders
Product and / or service
How it is linked to social and cultural aspects
Further processing
Presentation phase
Autumn 2019 Outcomes
The project outcomes are reflections and new designs regarding the course topic, ecosystem services that could be used to improve the outdoor environment in the Augmented Urbans project case study areas and at other places.
Some examples of the student projects presented for AB Gavlegårdarna: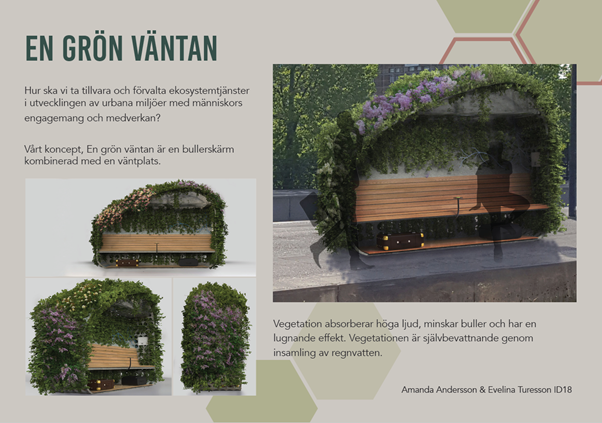 Autumn 2020 Overview
The course and student project provided an input to the university's strategic research area of Sustainable Urban Development, to a project application regarding Virtual Ownership of Green Infrastructure, and to the Augmented Urbans project.
Two main design challenge questions were posed. Firstly, how we should utilise and manage ecosystem services in the development of urban environments with human involvement and participation? Secondly, can digital solutions contribute and enable people to protect, manage, influence, gain knowledge about, make visible natural values ​​and possibly enable activities and events?
The students had to find information about:
Collection of facts about ecosystem services.
Are there examples of applications?
Which ecosystem services are relevant to work with?
Some points for the students to keep in mind to formulate problems and find a focus area were:
What ecosystem services are there, which are relevant to work with
Where should it be.
Target group, users and other stakeholders
Product and / or service
How it is linked to social and cultural aspects
How to interact with people
How digital platforms / solutions can be used
Autumn 2020 Outcomes
The project outcomes were reflections and new designs regarding the course topic, whether digital solutions contribute and enable people to protect, manage, influence, gain knowledge about, make visible natural values ​​and possibly enable activities and events to improve the outdoor environment in the Augmented Urbans project case study areas and at other places.
Thesis Outcomes
Degree Project for a Bachelor of Science in Environmental Engineering and in-depth study of environmental strategic work "How about pollinators? Status, policies, instruments and measures" by Theodor Persson
Supervisor: Marita Wallhagen
In the courses and the thesis work course, the student set out to learn more about the policy regarding pollinators, and how pollinators and biodiversity can be better promoted in real estate management. Finally, in the degree project, he investigated the impact of mini-flower gardens for biodiversity and for the tenants living in a residential neighbourhood. The student also participated in the workshop where plants were delivered to tenants and a questionnaire was delivered.
The report and a thesis work clarified why it is important to work with biodiversity also in urban environments, and that mini-flower gardens can be a positive addition to an environment in residential neighbourhoods, both for pollinators, biodiversity and for the tenants.
Degree Project in Design and Form "Äng" for Industrial design programme by Douglas Velasquez
Supervisor: Gunnar Anderung
The thesis work course for the student had the purpose of developing a solution that protects meadow areas in an urban environment and to communicate the value of biodiversity.This solution was relevant and requested in the Augmented Urbans Gävle local action project. The project outcome was a solution for meadow fence and signs that would both protect the meadows and inform people and managers about the meadow, which could be used to improve the outdoor environment in the Augmented Urban Gävle local action project's case study areas and elsewhere.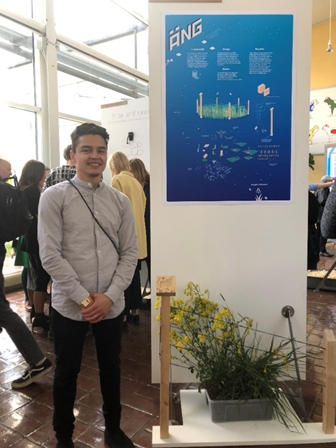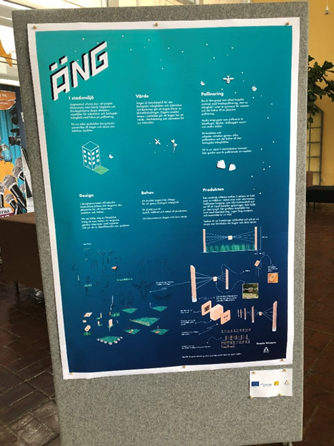 Tallinn University
Programme: Urban Governance
Course: Urban planning project I & II (Autumn 2018 & Spring 2019)
Number of students: 22
Tutors: Helen Sooväli-Sepping, Anni Müüripeal, Tauri Tuvikene, Tarmo Pikner, Bianka Plüschke-Altof
Overview
The aim of the course was to engage students in collaboration with planners in developing innovative public participation prototypes and carry them out in real life.
During the first semester, students worked in groups, focusing on particular types of user, such as older people, pre-schoolers, teenagers, high physical activity users and local garage users. To understand how people with different needs and social habits use the area, the groups mapped the area by conducting site surveys and interviews.
Building on the first semester's study of the area and its users, in the second semester the students collaborated with the city urban planning office and local stakeholders to tackle a real-life participation issue. The aim was to prototype different approaches to participation in urban planning and to test it in the area and to specifically emphasise inclusiveness, silent groups and community empowerment.
Outcomes
By combining theory and practice, each group organised an event or a local activity. Among the final outcomes was a participation event specifically addressing all questions local area garage owners had, preparation work for outdoor wall paintings on some of the garages in the area with the permission of the owners, initiating an urban community garden and developing a biodiversity exploration sheet for children.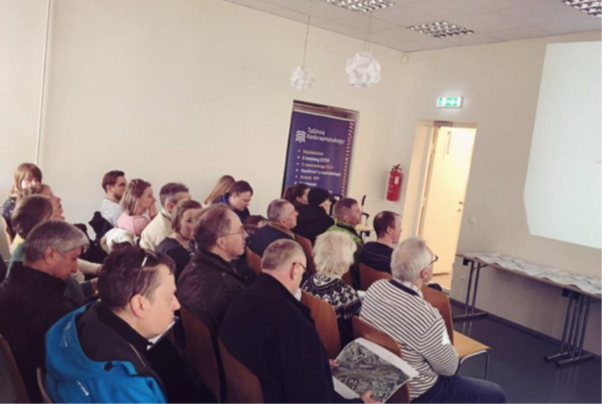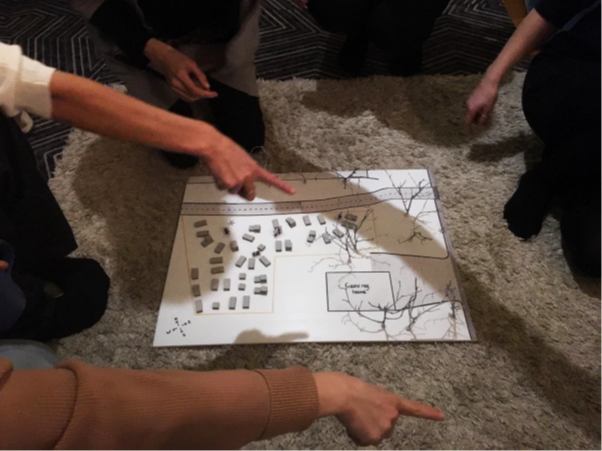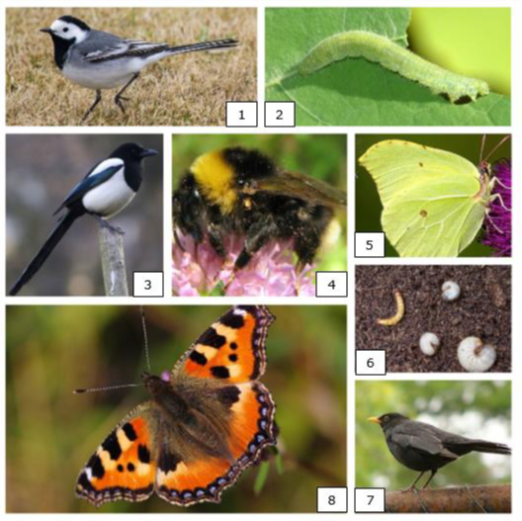 Metropolia University of Applied SciencesCourses:
Courses:
Innovation project for the City of Helsinki 2018, 2019 and 2020 (a cross-disciplinary course for Industrial Design and Interior Architecture)
Ergonomics and Usability Design for the City of Helsinki 2019 and for the Cities of Helsinki, Tallinn and municipality of Viimsi 2020 (course for Industrial Design)
Spatial Design 3: Exhibition and Event Spaces in 2019 (course for Interior Architecture)
Programme: Design
Tutors: Juha Ainoa, Pasi Pänkäläinen, Miika Lehtinen
Overview 
In Helsinki, several courses, mainly involving industrial design and interior architect students, have been conducted as Design Studios. The courses have addressed topics such as citizen participation and participatory design. The students have also ideated concepts dealing with spatial design; how a certain part or aspect of the local action area could be developed to increase comfort and safety. These have also led to some ideas on possible future services in the case area.
As part of the two ergonomics and user-centred design courses, industrial design students have created several service concepts to increase citizen participation in the context of the case areas, and conducted user testing on the XR applications developed in the project.
In three innovation project courses, multi-disciplinary student teams have developed ways to increase dialogue between the city administration and local residents and business owners, and ideated a health-promoting spatial design for the Teollisuuskatu area. Interior architecture students, in turn, have designed concepts for the project's final exhibition.
In addition, two Bachelor thesis have explored the Augmented Urbans themes introducing novel user interface concepts for both mobile and VR applications.
Outcomes
Innovation project 2018 : The Viewpoint
Reaching all the stakeholders poses almost an impossible challenge for the participatory urban planning processes. Newsletters, social media and events only reach certain stakeholders. Too often the majority of the inhabitants are not aware of the planning process, and only become aware of the changes when the construction begins. On the other hand, construction sites must have a sign indicating what is going to be built, when and by whom.
To support the overall aim of the City of Helsinki to develop participatory processes and the physical markers on-site, the project team identified the informing of citizens about upcoming and ongoing planning processes as one of the ideas to develop further. As the outline plan under preparation affects a wide range of stakeholders, the Teollisuuskatu area provided a good location for piloting a new urban planning information system. The task for students was to create a solution to reach as many citizens as possible and make participating in urban planning effortless, fast and interesting.
The core of the service proposed by students entails a website, helsinkimuuttuu.fi ("Helsinki is changing"), featured with physical markers on-site. On the website, citizens could view the progress of on-going planning processes and take part in them e.g. through online questionnaires. The survey results would be then taken into consideration as the planning processes progresses.
Alongside the website, the concept includes two types of physical elements, Viewpoints, to be introduced to the urban space. The appearance of the smaller Viewpoint stand to an area under development would signal that changes are about to happen, and the stand would remain there until the project was completed. Featuring two floor-to-ceiling height touchscreens, the stand would provide locals with an up-to-date and immersive experience of the progress with the plans.
The larger element, Viewpoint container, could be temporarily placed next to the smaller stand for participatory activities on-site, e.g. during public consultations or presentation of draf plans. The container would provide citizens with more in-depth information about the planning process, for example in the form of scale models and 3D models that could viewed through VR. It would also provide a space for city experts to meet locals and answer questions. Alternatively, the container could also be used in events to gather even more attention to urban planning.
Each element operates independently, but combinations of the Viewpoint stand and the Viewpoint container could be used during bigger events and in larger spaces.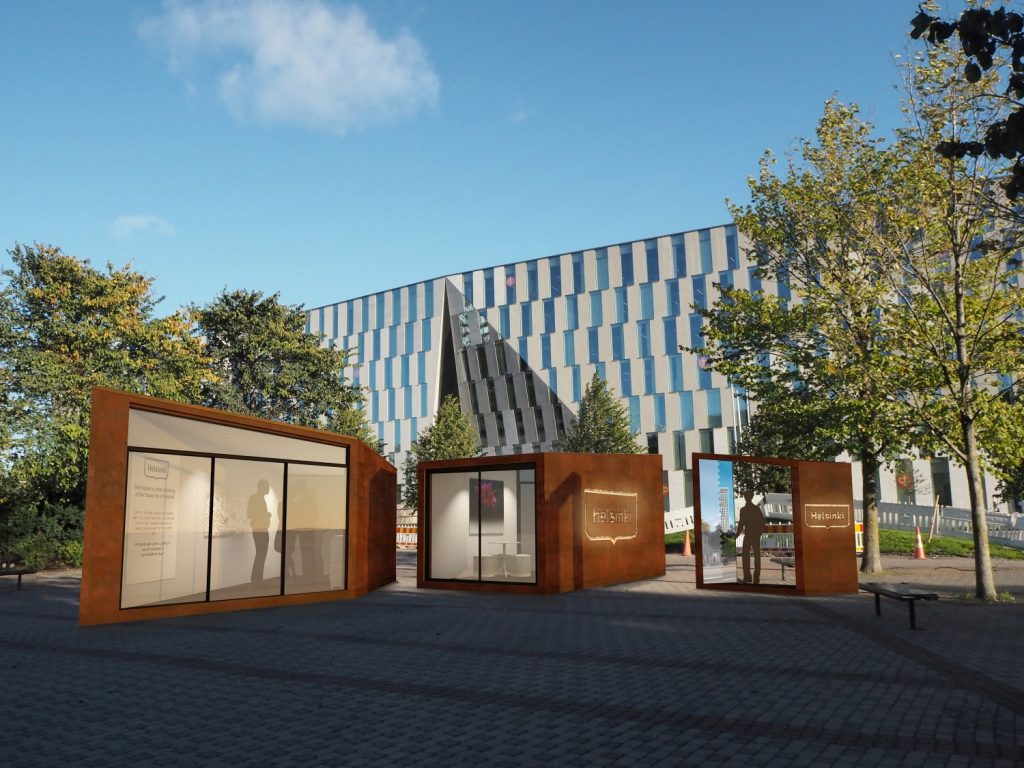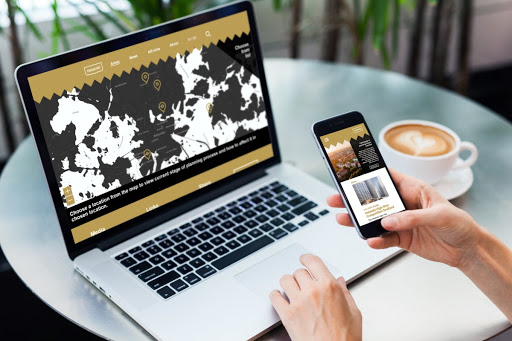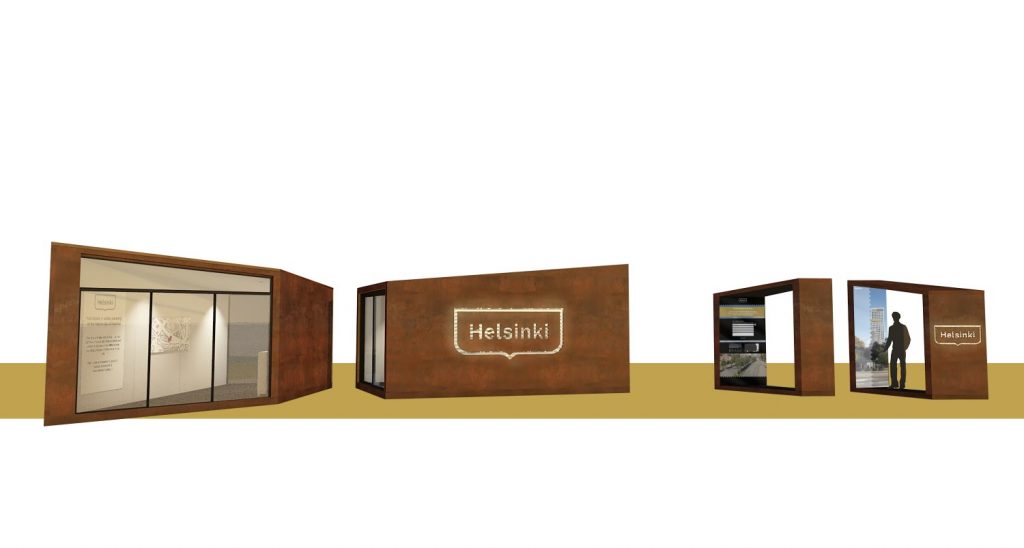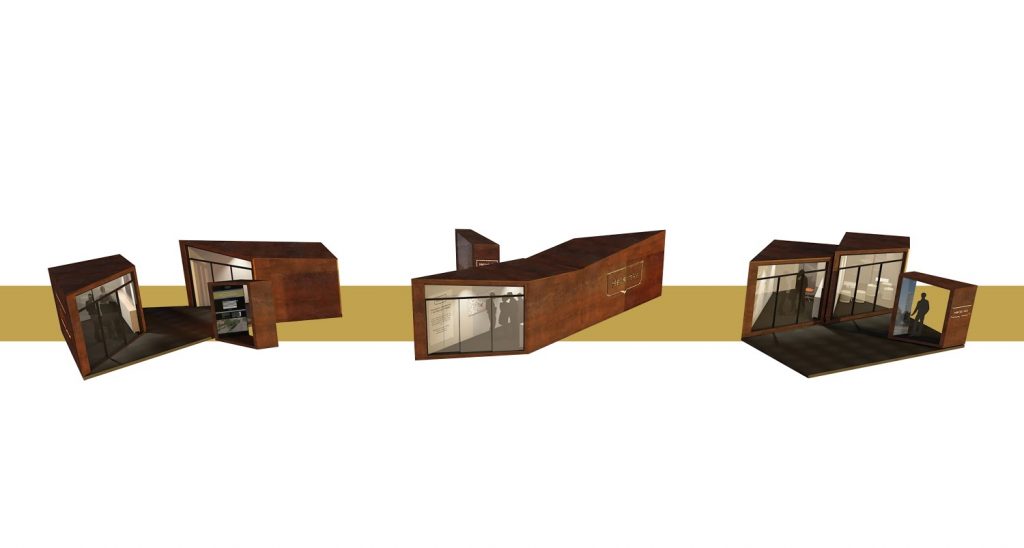 Ergonomics and Usability Design course 2019
The industrial design students were tasked with conceptualising an on-site participatory pop-up – an intervention, campaign, installation, competition, application, workshop, planning-themed walk, business model or any other applicable solution. Regardless of the format, the proposed pop-up action should support the planning of Teollisuuskatu at the stage where the outline plan, including a general idea of land use and massing of new buildings, is presented to local citizens and stakeholders. The pop-up should also share the outcomes of the previous participatory activities, and how the gathered user insights have been incorporated in the plan.
The students' task was to include the following in their concepts:
A survey of stakeholder groups relevant to the planning site
Creating a profile with their motivations and capabilities to participate in the planning process e.g. in the form of an empathy map
Identification of the type of information needed by the selected stakeholder group to support their participation
User journey of the selected stakeholder group participating in the planning
Concept proposal of a participatory activity or activities and related methods or tools based on the needs of a selected stakeholder group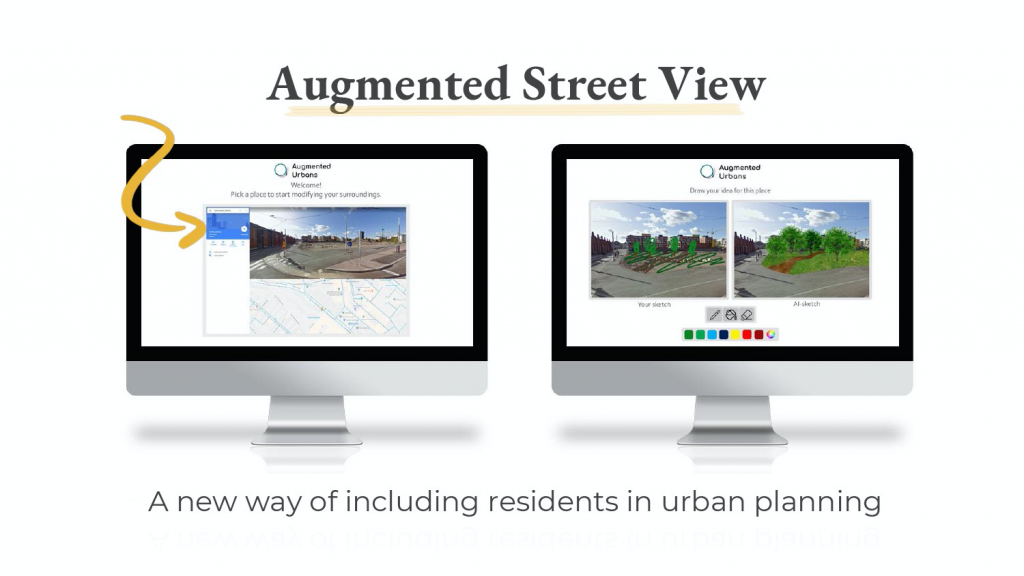 Thesis outcomes
Bachelor of Culture and Arts thesis "Augmented reality city" by Laura Laamanen
Instructors: Päivi Keränen and Ville-Matti Vilkka
The thesis describes a design process to create an augmented reality mobile concept. The concept aims to enhance citizen participation in urban planning by including citizens in the process from the beginning. The challenge for the design process is to find ways to conceptualise and test augmented reality prototypes in the early stages of concept development.
The thesis produces an augmented reality concept and prototype for participatory urban planning. The AR application concept aims at transforming unused spaces into augmented reality conversation walls for citizens to add their development ideas. The created prototype showcases the main features and provides a starting point for future development.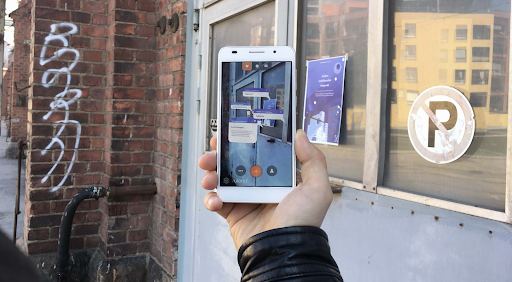 Bachelor of Culture and Arts thesis "UI & UX Design of a Virtual Reality Application for Participatory Urban Planning Processes" by Lasse Ahlberg
Instructor: Juha Ainoa
The thesis studies the design process of a user interface concept that can be adapted into virtual reality. The thesis aims to an user interface concept that improves the engagement of different stakeholders in urban development. The thesis develops different versions of the user interface following the iterative design framework using user-centered design methods.